Pianist / Vocalist / Instrumentalist (Moyo drum/flute)
When Valerie Joi performs, she is a living expression of the beauty and power of music to transform, heal and inspire. Whether on voice, piano, keyboards, drum or flute, Valerie Joi is one with the song, fully present and available. She becomes the music, which is to say she becomes an instrument through which Love speaks. Her music is rooted in freedom and authenticity and, most of all, in love – love for Spirit, love for the planet, love for ourselves and love for each other. Her music speaks from the heart, and to the heart, conveying powerful messages of social justice, healing and forgiveness. Through song, Valerie Joi asks us to remember our ancestors and the children, and she reminds us of what is possible, in ourselves and in the world. The music comes through her to speak directly to her listeners; she blesses, as she herself is blessed, with the inspiration of the Divine.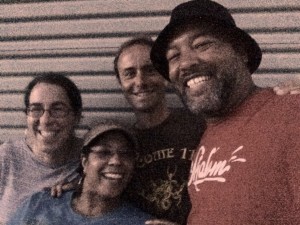 VJQ (Valerie Joi Quartet)
Valerie Joi is a musician's musician, evident when she plays with her band VJQ – where improvisation and funky grooves meet her version of ministry, Hot Praise! VJQ was established by Valerie Joi and musicians that she worked with for many years as Music and Arts Director for Inner Light Ministries in Santa Cruz, CA. The band consists of Valerie Joi (Vocals/Keys/Moyo Drum/Flute), Anne Stafford (Soprano, Tenor and Baritone Sax/Flute), Etienne Franc (Bass), and Kevin DiNoto (Drums).
VJQ performs an original repertoire that emphasizes instrumental improvisation and joyful, spontaneous funk. "We go on a journey together and take people with us!"
VJQ performs at celebrations and gatherings in a variety of venues and are also available to support other vocalists dedicated to the positive power of music. For booking, contact: TruJoiManagement@gmail.com.
Listen to this recording of a VJQ rehearsal:
SimplePraise (Valerie Joi – Piano/Vocals and Anne Stafford – Saxophones/Flute)
SimplePraise started on January 1, 2014 as a collaborative musical exploration to inspire the contemplative and healing experience of a dear friend. The magic created through the repetition of melody and countermelody and the love in the room is what Valerie Joi and Annie continue to share for audiences everywhere.
For booking, contact: TruJoiManagement@gmail.com.
LINKS TO PERFORMANCES: