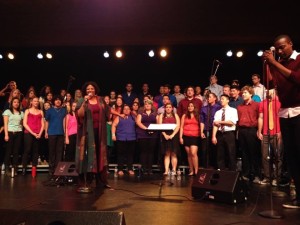 Valerie Joi's philosophy as a teacher and facilitator is to empower authentic leadership through song. "I want to bring out your true voice, because that's the voice that has the most impact. That's the voice that I want you to sing with, speak with and live with." Valerie Joi is a scholar whose breadth and knowledge of history, language, and spirituality gives her teaching an uncommon depth. Yet, she is extremely skilled at breaking down complex ideas into concepts that are easy to grasp and apply to one's own life, offering metaphors and points of access for participants of all backgrounds.
As an educator and facilitator, Valerie Joi brings years of experience: 16 years as the founding Musical Director of Inner Light Ministries, 13 years as Director of the UC Santa Cruz Gospel Choir (where she is also a Porter College Faculty Fellow), and numerous years creating and leading music workshops and classes around the country. Valerie Joi is also a PhD student in Transformative Studies at the California Institute of Integral Studies, where she is focusing on the interconnection between music, spirituality and social activism.
A firm believer in co-ministry, Valerie Joi brings the skill and willingness to design workshops tailored to the specific topic and group for whom she is facilitating. Her dedication to the group process means that to participate in one of her classes is to come away changed and inspired. As she says, "I really believe in the importance of singing together and playing together, in the power of synergy and integration. It's impossible to do that alone."
Sample List of Workshops led by Valerie Joi:
Singing Circle Music Ministry Experience – A choral class designed to experience the healing and transformational power of ministry through song. Valerie Joi developed the Singing Circle as the flagship music ministry training for Inner Light Ministries. The training creates a safe space for participants to discover new ways of perceiving themselves and others. It is an experiential class through which participants individually and collectively experience living in the moment, Oneness with Spirit and with each other, and personal and collective transformation.
What Were They Really Singing About? – A workshop featuring Valerie Joi's unique perspective and approach to gospel music and spirituality. Through exploration of bible passages referenced in song lyrics and personal application of ancient wisdom from metaphysical bible study, each participant is reminded of the wisdom within his/her own soul and encouraged to discover new ways of relating to and experiencing this wisdom in everyday living.
Imagining Justice – This ongoing series includes weekly sessions of conversation, interactive experience, and artistic expression with the intention of stimulating spiritually conscious social action in each of us. It is facilitated at Heart & Soul Center of Light in Oakland, CA by Valerie Joi and Rev. C. Michael Woodstock. Together with the workshop participants, we create a safe space of self-discovery.
Let Our Souls Sing! – This workshop illustrates and demonstrates the power of singing African-American traditional songs (from the Civil Rights era and before) with an awareness of our spiritual identity of freedom and our innate human capacity for resilience.
Valerie Joi was recently featured as a speaker and performer for TEDxBerkeley 2015 – Wisdom.Compassion.Connection, speaking on the power of forgiveness and performing her original composition "Forgive Again". https://www.youtube.com/watch?v=jsjItmQfgUk